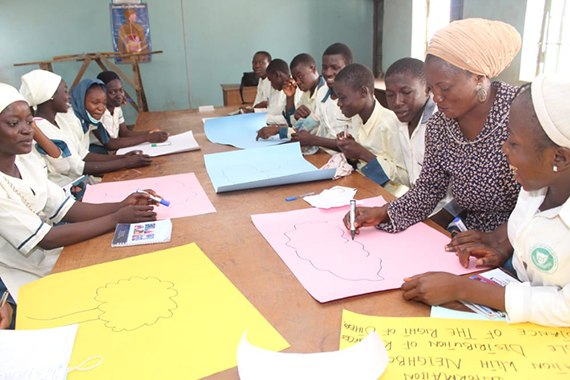 By Eyerusalem Azmeraw, Project Officer, UNESCO IICBA, and Pietro Uzochukwu Macleo, Chair of the Rotary Nigeria National Peacebuilding and Conflict Prevention Committee and Peace Chair for the Great Britain and Ireland – Nigeria Rotary Intercountry Committee
In February 2022, we joined together with other colleagues to organize a workshop in Nigeria on preventing violent extremism among young people. Conflict and violence have long been prevalent in the country, with youth recognized as having a role in preventing extremism. Our aim was to address violent extremism and its underlying causes among youth by strengthening the ability of teachers to deal with these issues.
Through a train-the-trainers model, we empowered learners to critically examine their beliefs, values, and knowledge in order to develop critical thinking. We relied on transformative pedagogy, a holistic educational approach that engages learners as whole persons in collaborative and participatory activities for peacebuilding. The approach creates a sense of interdependence and interconnectedness among people who are learning to live together.
About 500 participants attended, with 110 passing the optional exam at the end of the training and thereby qualifying as Positive Peace Ambassadors. Rotary, UNESCO's International Institute for Capacity Building in Africa (IICBA), the African Union Youth for Peace Programme (AU Y4P), Arigatou International, and the Institute for Economics and Peace collaborated on the training with funding from the Government of Japan.
The first week focused on the key components of Positive Peace and current conditions in Nigeria, an ethnically, religiously, and culturally diverse country with some 500 languages. Protracted violent conflicts and insecurity are one of the most pressing and critical issues across the country, as set out in the Global Peace Index and Positive Peace reports. Participants in the training deepened their understanding of the Institute for Economics and Peace's eight pillars of Positive Peace.
The second week focused on the role of education in peace- and resilience-building as well as on the prevention of violent extremism. Participants discussed the role of education and proposed ways to facilitate genuine participatory and collaborative learning while increasing the level of engagement from community stakeholders – especially youth. We used the youth guide on peacebuilding and preventing violence in Africa developed by UNESCO IICBA, which is also available in Arabic and French.
The training in Nigeria was part of a multi-country initiative managed by UNESCO IICBA, but the Nigeria component also emerged from previous work by the Rotary Nigeria Peace Commission. The Commission consists of national, zone, and state coordinators across every state in Nigeria along with more than 5,000 volunteers across the country. It promotes Activating Positive Peace in Nigeria through social change interventions.
An independent evaluation suggests that the multi-country program has been successful. Participants in Nigeria were enthusiastic as well. Here is what one participant said:
"The training was a major departure from the tradition training model. It was context-specific, with clearly outlined steps leading to tangible results. Upon completion, I found that I could apply most of what I learned in virtually all areas of human endeavor. I immediately engaged the Blade Martial Arts Taekwondo Academy within my sphere of influence, and the feedback from parents and students have been nothing but rewarding."

Bama Francis Uchechukwu
What's next for Nigeria? We're currently talking with the Federal Ministry of Education of Nigeria on the possibility of establishing Peace Clubs in primary, secondary and tertiary educational institutions nationwide. If the Federal Ministry grants its authorization for this initiative, funding will be needed to expand the program.
We are organizing a webinar on 13 February to share lessons learned from this project in Nigeria and elsewhere. If you would like to participate, please register here. We are also considering putting together a proposal for a global grant that could receive matching funds from The Rotary Foundation. If your Rotary club or district might be interested, please contact us at [email protected] and [email protected]. And if you would like us to make a presentation about this initiative to your club or district, let us know!
https://blog.rotary.org/2023/01/19/creating-peace-clubs-in-nigerian-schools/