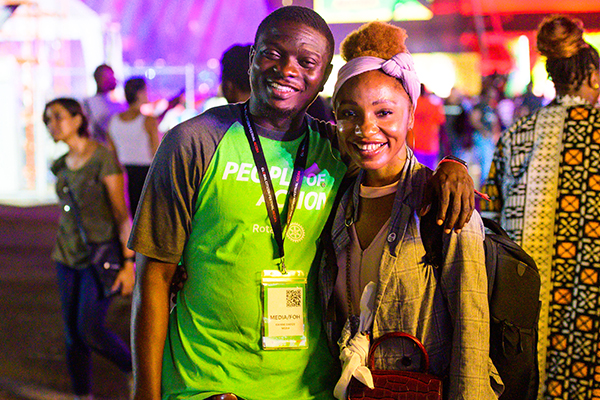 By Julian Andoh, president of the Rotaract Club of Accra-La East, Ghana
I was standing at the Black Star Square, a large public space in Accra, watching a global change movement happen right before my eyes. And the best part? It was a concert.
It all started when I was scrolling through social media and came across a flyer for a concert in Accra. I wondered what organization could get all these artists to come to Ghana to hold a concert this big. A quick Google search gave me the answer: Global Citizen, an action platform dedicated to rallying people around critical issues of climate change, poverty, and inequality.
I wanted to attend the concert not only to watch amazing performances, but also to be a part of this movement. I followed Global Citizen on social media, downloaded their app, and signed the petitions necessary to be sent a ticket. Failing to redeem it within the given time, I signed more petitions hoping to get another chance, but then I was told that Rotaractors all over Ghana were welcome to attend the concert because Rotary International has been a supporter of the Global Citizen Campaign.
As the president of my Rotaract club, which chartered three months ago, I was elated. It was a good opportunity to get members even more excited about Rotaract and what it has to offer.
I was also thrilled by the thought of getting the chance to finally watch Usher perform live. Rotaractors across Ghana came in numbers. We took pictures and secured spots in front as the Black Star Square got even more crowded
The crowd cheered as the first performer, Stonebwoy, pulled up to the stage on a horse. He started his performance with his hit song 'Run Go,' which talks about economic hardship and opines that all we ask for is a simple life where we can all at least enjoy food, shelter, and love. I thought it was a perfect show opener.
After that, various artists (both local and foreign) graced the stage, including one of my personal favorites, Stormzy, who is involved in several charities. He brought on stage two of Ghana's favorite artists: Yaw Tog and Kwesi Arthur, and the trio, along with fans, shook the place with energy in their hit song, a remix of "Sore." The chorus of the song means "We will rise."
The show ended with a performance by Usher. As a young boy, I had his songs on repeat on my digital music player. I remember I used to tell my friends in primary school he was my big brother because Ussher is my middle name.
I found the festival unforgettable for several reasons:
It united people through music
It meant the world to me, as a professional guitarist, to see the power of music at work and to see music being used as a vessel to bring youth and global leaders together to create change. I'm personally excited about the future of music and its impact on the world at large.
It helped bridge the gap between Africa and the rest of the world
I do believe it will create a ripple effect in the entertainment industry, especially in Ghana, as the attention of more international organizations, individuals, and brands, are drawn toward my country.
It innovatively promoted service
The Global Citizen organization made sure the concert was a free ticketed event, making tickets accessible to people who signed petitions. By this means, Global Citizen secured many petitions on pressing global issues. Guests and global leaders rallied behind the call to eradicate polio, empower girls, and end poverty.
I was inspired because, as Rotaractors, we have a responsibility to effect positive change in the world through youthful and engaging activities. The festival has energized Rotaract members across Ghana to be more excited about service.
I was honored to be a part of the social media team for the festival, and Rotaractors across Ghana were more than happy to help with the social media campaign.
It was a beautiful sight to see youth taking pride in campaigning for global change. During the festival and shortly after, I got many inquiries from young people asking me about Rotaract and it was amazing to see several people express interest in joining a Rotaract club near them.
https://blog.rotary.org/2022/11/10/global-citizen-festival-excites-passion-for-service-in-ghana/