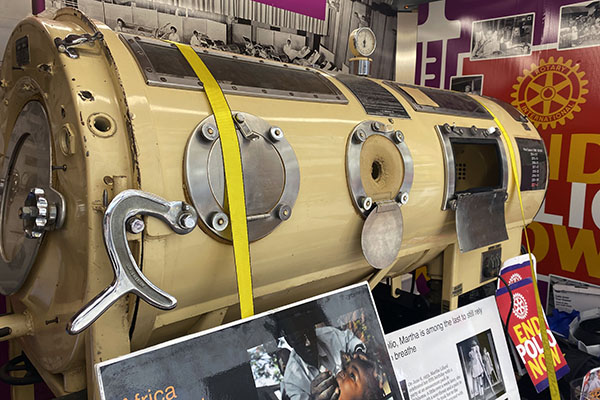 By Suzanne Gibson, 2019-20 governor of Rotary District 6440 and a member of the Rotary Club of Barrington Breakfast, Barrington, Illinois
While planning a youth assembly in the fall of 2017, Rotary leaders in my district were looking for a fresh way to connect young people with the story of polio. Their generation is largely unfamiliar with this disease because it has not been endemic in our part of the world for decades. They have little memory, aside from photos in history books, of polio scares and children in iron lungs.
We wanted to explain how Rotary has been working to deliver on the vision of a polio-free world and why. We have reduced the number of cases of polio by 99.9 percent since 1988. But still, as long as polio exists anywhere, it remains a threat. There is no cure, only prevention, through vaccines.
As work on our youth gathering progressed, we saw a feature in the February 2017 Rotary magazine about Roger Frank, a Rotary member in Upper Eden, England, who had purchased an iron lung and used it as a traveling demonstration piece. We were inspired. The quest began to secure an iron lung of our own, an iconic symbol of polio's threat.
Clubs from throughout the northeast portion of the state of Illinois, USA, began collaborating to find one. Synchronously, The G. Whiz Science Museum in Sarasota, Florida, was closing and had a pristine iron lung available. And so the Rotary Iron Lung Education Exhibit (RILEE) sprung to life.
RILEE had spent her first life helping polio patients in Sarasota. Her second life was educating people at the G. Whiz Children's Museum. And now in her third life, she is the centerpiece of a mobile museum serving northern Illinois. On Monday, 24 October, RILEE paid a visit to Rotary International World Headquarters in Evanston, Illinois, for World Polio Day.
RILEE's message and mission are as important as ever. The recent paralysis of an unvaccinated man in the state of New York reminds us that the threat of polio exists everywhere as long as polio remains anywhere. Under-immunized communities are at risk, and we still have work to do educating people about the importance of vaccines.
Perhaps you know someone who suffered from polio years ago or continues to suffer today from postpolio syndrome. Share your story and tell your friends and community about Rotary's efforts to end polio. Learn more at endpolio.org and consider making a donation.
---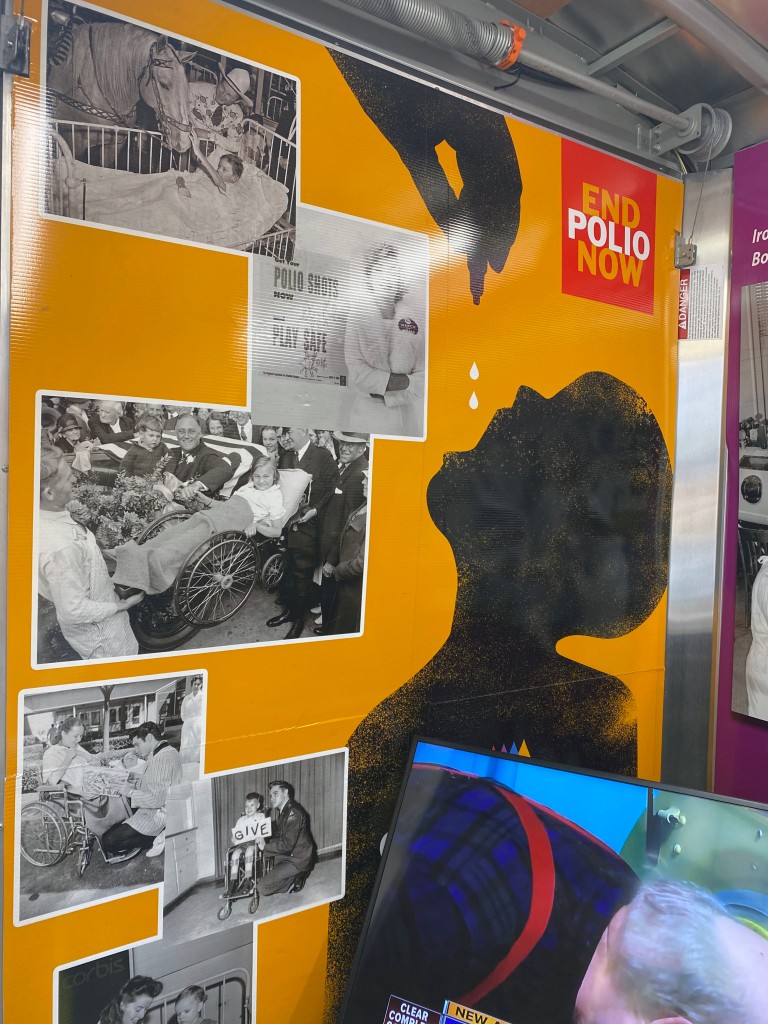 https://blog.rotary.org/2022/10/26/iron-lungs-third-life-builds-awareness-for-end-polio-now/