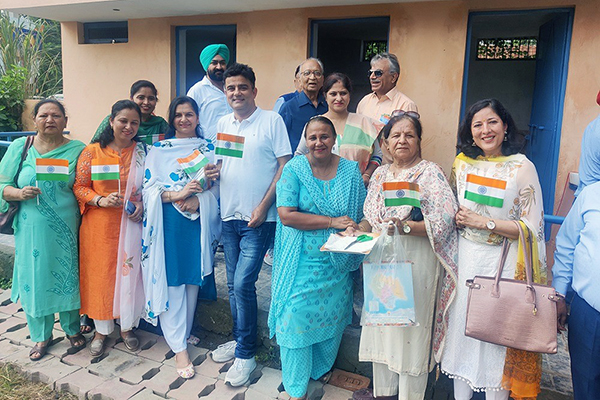 By Jeeten Bhambri, president of the Rotary Club of Chandigarh Midtown, India
In a heartwarming celebration on India's Independence Day, I witnessed something truly remarkable. Singhpura School, nestled on the outskirts of Chandigarh, began a journey of transformation thanks to the dedicated efforts of members of the Rotary Club of Chandigarh Midtown.
The school had been operating with just two rooms and inadequate sanitation facilities. That day, 15 August 2023, marked a turning point.
In just 15 days, club members brought new, much-needed toilet facilities to the school. The transformation, led by our past president Ashok Puri, was swift and breathtaking.
What made the day even more special was the infectious enthusiasm of the students. They performed patriotic songs and vibrant dance routines, showcasing their unshakable spirit and unwavering determination. The joy on their faces was palpable, reflecting the hope that this day marked the beginning of a brighter, better-equipped future.
It wasn't just about dreams for the future, though – it was also a celebration of the present. The children enjoyed an array of refreshments, bringing smiles to their faces and a sense of camaraderie that was heartwarming to witness.
This project is an ongoing journey. Our club took another step recently and began construction on new classrooms and a room for the principal and staff. It is expected to be completed within three months.
In that time the school will have gone from a place with considerable limitations to one poised for progress. The students now have access to the tools and environment they need to shape their destinies. It's a promise of a brighter future and a testament to what can be achieved when a community comes together with determination and heart. We eagerly await the next chapter in this incredible journey of transformation.
---
Learn more about how Rotary supports education
https://blog.rotary.org/2023/11/07/a-bright-future-for-singhpura-school/