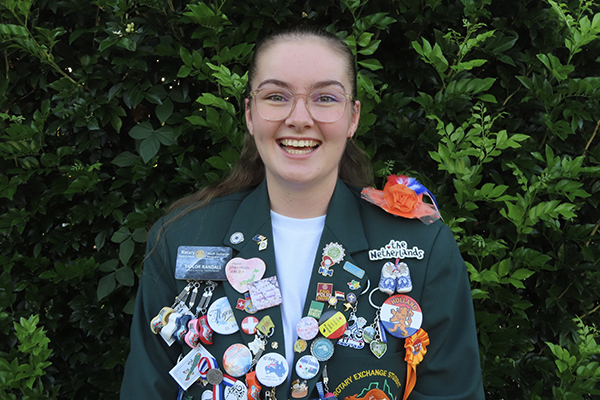 By Taylor Randall
My journey with Rotary actually began before I was born.
I'm the fourth generation of my family to be connected with the Rotary Club of Nerang, Queensland, Australia. My great-grandfather was charter president, my grandfather was a charter member and past president, and my mum – the first woman invited to join the club in 2000 – became the club's first female president in 2007.
Then there's me. When I was one year old, I made a splash in the World Swim for Malaria community swim. I've been a proud participant in Interact, Rotary Youth Exchange, Rotex (Rotary Youth Exchange alumni) and the National Youth Science Forum, of which Rotary is a founding partner. Ultimately, Rotary youth programs have had a significant role in shaping who I am today.
My school-based Interact club held Paint Your Pinky Purple activities to raise awareness of Rotary's work to eradicate polio. Barbecues and raffles were a common occurrence. But I wanted to leave a bigger mark on the world; I wanted to further my international understanding.
Do It In A Dress
After talking to friends here in Australia and across the globe, I learned how the access to and quality of education varies greatly around the world. As a young female in Australia, I was lucky to attend school. I wanted to make sure my peers knew how lucky they were, too. My Interact club started the program "Do It In A Dress" to support One Girl, an international charity raising funds for and promoting awareness of equality in female education.
In under a week, our club raised more than 2,000 Australian dollars (US$1,330 by encouraging students to do physical activities like arm wrestling, basketball, wet sponge throwing (corn hole), and sumo wrestling – all while wearing dresses or tutus. To celebrate reaching our goal, we held a fashion parade where our teachers modeled their most fashionable gowns. Even our male school principal got involved – dress, wig, make-up and all! It was a sight to see!
Having this under my belt inspired me to see where else Rotary could take me. A year later, I found myself in Groesbeek, a small village in the Netherlands, on a Rotary Youth Exchange. This experience produced the most impactful and life-changing moments in my life. I had already had the privilege of meeting Rotarians from all around the world at the 2014 Rotary International Convention in Sydney, and again in Toronto in 2018. I had collected pins and stickers from people in the House of Friendship as well as Rotarians I met on buses, trains, and trams. Gaining the courage to talk to strangers built my confidence and encouraged me to push the boundaries of my comfort zone.
I left Australia for my exchange year in January 2020. After two exhilarating months of living my best exchange life, challenging my comfort zone, discovering a new culture, and learning a new language, the Netherlands went into lockdown from COVID-19. School, Rotary, hurch, Scouts, and everything else was online… and in Dutch!
Rotary Youth Network
To keep meeting new people with a love of serving others, I joined Rotary Interactive Quarantine (now known as Rotary Youth Network). I met with 800 Interactors, Rotary Youth Exchange students, and RYLA attendees from approximately 30 different countries. I didn't just get to know Dutch culture, I got to know cultures from around the world – all from my bedroom.
Due to the pandemic, I returned to Australia only five months into my exchange year. But I was grateful that I got to experience a smidgen of the Rotary Youth Exchange life in person.
Since returning from exchange, I've wanted to give back to Rotary for everything it's given me. I'm a charter member and current president of the Southern Star Rotex Club in District 9640 and a member of that district's Rotary Youth Exchange committee. I also have the honor of serving on the inaugural Rotary International Youth Advisory Council representing all Rotary Youth Program participants and alumni around the world. I support youth voices in all aspects of what I do and encourage other alumni to reconnect with the Rotary world.
I'm here today because of the Rotarians who believed in me and the power of Rotary youth programs. To them I say: Thank You!
---
Celebrate Rotary's Youth Service Month in May. Learn more about our youth programs.
https://blog.rotary.org/2023/05/19/from-australia-to-the-netherlands-rotary-youth-programs-have-shaped-me/