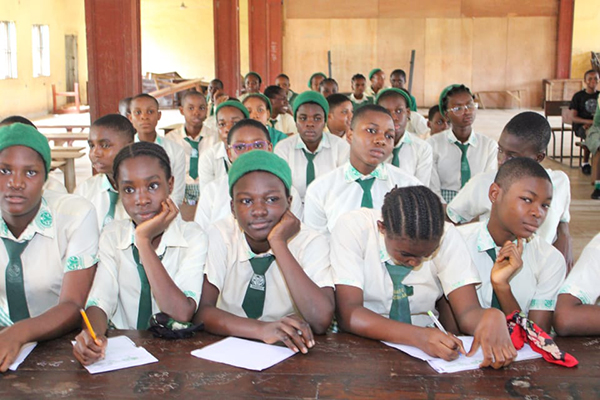 By Ada Wikina, international service chair, Rotary Club of North Cobb, Georgia, USA
As a young girl growing up in Nigeria in the 1960s, I did not talk about feminine hygiene, as it was almost taboo. So much so, that women either simply didn't broach the subject with their daughters or they gave the responsibility to others. Or, as in my case, they would let an aunt who was a nurse explain it. Things have come a long way since then. I recently worked on the "Pad A Girl" project in my home country along with two Nigerian-based Rotary clubs. How did I get there?
I've always lived a life of service. My father, a Rotarian, was a great example of servant leadership. He instilled in me a love and care for community, and I always sought opportunities to serve. This continued after I married and accompanied my husband on expatriate work to various parts of the world.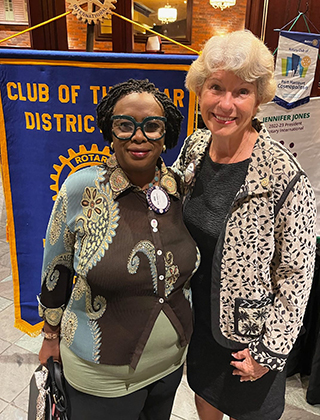 After my husband retired, we settled in Cobb County, Georgia. Through our church, I loved volunteering for various outreaches. One that particularly stood out was my church's efforts to help a homeless veteran. It didn't sit well with me that many veterans, after serving their duties, ended up homeless. I eventually pivoted my career and started working in a non-profit organization that primarily serves homeless veterans.
As part of my job, I attend various community meetings. At one meeting early in 2019, I met Dave Schwickerath, president of the Rotary Club of North Cobb. Dave invited me to one of their breakfast meetings, and I met a group of vibrant, fun-loving, service-oriented people!
A few months later, I joined and thoroughly enjoyed every meeting and service project. In March 2022, I attended the Rotary Leadership Institute (Sunshine Division), where I had a "light bulb" moment. It occurred to me that our club could make an impact beyond North Cobb and even the United States. We supported causes outside the country, but nothing hands-on. We needed to put "our hands where our money went." 
I immediately approached Nancy our club president about my vision of creating an International Service Committee that I would chair. Our president and board approved, and I began looking for opportunities for the North Cobb Rotary to serve internationally. 
Several of our members visited the Rotary Club of Meriwether County, Georgia, where Rotarian Kay Williamson has set up a food pantry, clothing closet, and supply room in the local high school. The items include feminine hygiene products for girls who cannot afford to purchase them (defined as Period Poverty). This allows the girls to not miss school during their menstrual cycle. 
This resonated with me, and I connected it to my home country of Nigeria. I knew that many Nigerian girls suffer the same fate of missing school during their periods for lack of access to period and feminine hygiene products. Education is very important to me, so this was an issue near-and-dear to my heart, and I believed our Rotary club could help. 
For our project, I approached two Nigerian Rotary clubs (Umudike Central in Abia State and Port Harcourt Cosmopolitan in Rivers State) and a local supplier of Dignity Packs, which are reusable feminine products. The initiative tagged "Pad A Girl" was a huge success, impacting over 200 girls across two states in Nigeria. It has become the pilot project for what I hope will be a much larger initiative in the future, with several District 6900 clubs participating. 
Joining Rotary has been a blessing in my life and I'm thankful for the spark attending the Rotary Leadership Institute lit within me. I look forward to more success and impact from our Rotary Club of North Cobb and our international service committee.
https://blog.rotary.org/2022/11/23/pad-a-girl-project-helps-girls-stay-in-school/