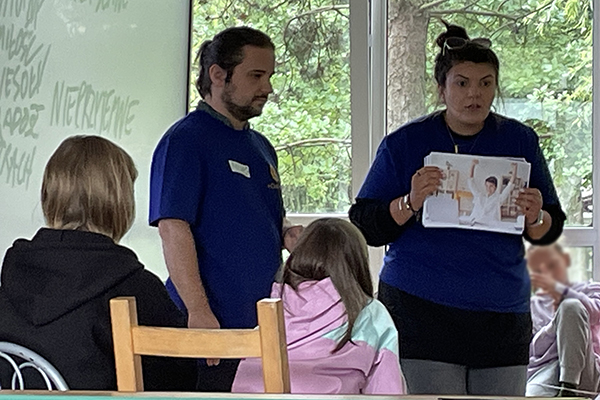 By Dr. Marina Theododou, president-elect of the Rotary Club of Crystal City-Pentagon, Arlington, Virginia, USA
On a crisp summer morning in late July, a team from my club met Jan in Warsaw, Poland. He is a blond, lanky, 14-year-old boy with a shy but warm smile. We leaned in to shake his hand and noticed a tuft of hair painted light blue, the color of the Ukrainian flag.
Jan and his mother, Luba, fled the war in Ukraine more than 500 days ago. Since then, they have been living with Rotary E-Club of Poland member Monika Popiolek and her family. Jan's father and older brother are fighting on the Ukrainian front. Jan is just one of thousands of Ukrainian children displaced by the war in Ukraine. Several Rotary clubs and individual Rotary members have stepped up to help support these Ukrainian refugees living in Poland.
In May, our club contacted the Rotary E-Club of Poland in District 2231 to learn how we could help. We collaborated over Zoom to raise funds to send 50 orphan refugees to an 11-day cultural immersion camp near Gdansk on the Baltic Sea. It cost $575 to send one child to the camp. We were able to send 26 orphans to the camp, thanks to the generosity of Rotary members throughout District 7160 as well as several nonmembers. The E-club was able to fund the other 24.
On 27 July, our team including past presidents Peter Anderson and Stephen Leisge and my partner, Dr. Andreas Groehn, arrived in Warsaw for a seven-day visit to build bonds with the Poland E-Club, see the camp, and visit the orphanage where a total of 240 children live. After meeting Jan and his mother in Warsaw, we visited the camp as the children were enjoying the beach. We observed them participate in sports and immersive mental health activities designed to help them counter their stress as an orphan refugee and build resilience and hope.
We met individually with Viktor, Yulia, Natalia, Irina, Vitoslav, Kyril, and several others who had lost their parents or their extended families and who had been sent to Poland for their safety. The children warmed to us throughout the day, as those who spoke better English helped translate for those who didn't. As we were wrapping up the day's visit at the end of a super exciting sports session at the gym, Vitoslav, 7, who speaks no English, approached Peter to thank him for teaching him how to shoot pool earlier. Vitoslav first tried silent gestures, but then resorted to a big bear hug, which had us all in tears.
Research by Deutsche Welle shows that refugee children can carry unseen scars for life. Younger children like Vitoslav have a chance of recovering faster. As we observed some of the older children in their early to late teens, we noticed a budding hope that safe shelter brings but also fear and uncertainty. Natalia, 17, smiled tentatively as she showed us her room. She had a cat and clutched it, in an attempt to veil the sadness, fear, and uncertainty she felt.
As we visited the two orphanage centers, we realized the immediate and pressing need is to help the older children develop skills to navigate their immediate future, including education or vocational options like attending university or applying to trade schools in Poland or other countries in Europe. They also need practical life skills to turn sadness, fear, and uncertainty to resilience, perseverance, and hope.
Back in Warsaw as we prepared to depart, Jan leaned in and gave us a hug. He was smiling, and we could see hope in his eyes as he cheerily said, "Thank you and good luck!" in perfect English. What a great send-off!
While we may not be able to help all the hundreds of thousands of Ukrainian refugee children in Poland, we will certainly try to have a positive and lasting impact on the lives of Jan, Natalia, Yulia, and Vitoslav. And to the best of our ability and resources, the 236 other children at the orphanages.
Learn more about our Future is Now Project at  [email protected]
https://blog.rotary.org/2023/09/12/resilience-and-a-hope-filled-smile-in-ukraine/