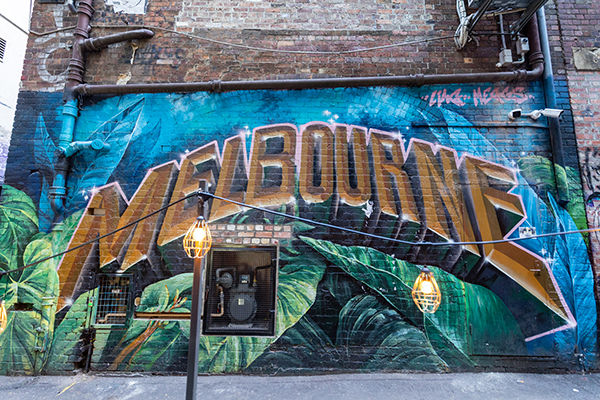 By Etelka Lehoczky, RI staff
When I found out I'd be going to Melbourne, Victoria, Australia to cover the 2023 Rotary International Convention, my mind raced. I thought of exhibition halls, Ayers Rock, packed auditoriums, and kangaroos. Even briefly an auditorium packed with kangaroos. I also thought of one word: laneways. For a street-art fan, Melbourne's graffiti-filled alleyways are at the top of the bucket list. The city's graffiti has been world-renowned since Keith Haring painted several murals there in 1984. Even the king of modern street art, Banksy, said Melbourne's graffiti is "more diverse and original than any other city in the world."
When I hit the laneways, I want to know what to look for. I did some research to learn who's behind some of the most notable paintings currently on the walls. Luckily, I found a map and guide to the main laneways created by the city government. Some of Melbourne's must-see works are found outside this district, though – such as Haring's mural at 35 Johnston Street.
35 Johnston Street, Collingwood
Most of Haring's 1984 murals have faded or been painted over, but a heritage-listed work in Collingwood remains. In 2011, the state government paid to clean and restore the deteriorating mural and apply a protective coating. It's a vigorous composition bursting with Haring's trademark dancing figures and a giant worm with a computer for a brain. This neighborhood has lots of other street art to see, too. Look for the Juddy Roller gallery, which sponsors murals on walls and silos all over the country.
Hosier Lane
Hosier Lane is one of the best-known laneways. One blogger says it's kind of a "'practice' alley … So, what you'll find is a multi-layered mash-up of well-crafted art along with the mundane." You'll also find one of the city's most celebrated works, a 25-yard-high aboriginal boy painted by local artist Adnate.
Duckboard Place
Banksy once stenciled numerous small rats all over Melbourne, but most have been destroyed. One of the last can be found at the end of Duckboard Place. It's parachuting, stenciled in purple. Also look for the child drawing with chalk, by artist N20_Jo, and the red-and-blue roses mural by Brisbane-based Steen Jones.
AC/DC Lane
Not surprisingly, this spot is all about music – especially Australia's iconic rock band. You'll find tributes to AC/DC members Malcolm and Angus Young and the band's original singer, Bon Scott. There's also a large piece by Fintan Magee, whose social realist murals can be seen around the world.
Various companies offer guided walking tours of the laneways, but I might just set out armed with the map – and my phone. I see a full SD card in my future.
Learn more about the 2023 Convention in Melbourne and follow all the coverage
https://blog.rotary.org/2023/05/18/tour-melbournes-world-renowned-street-art/