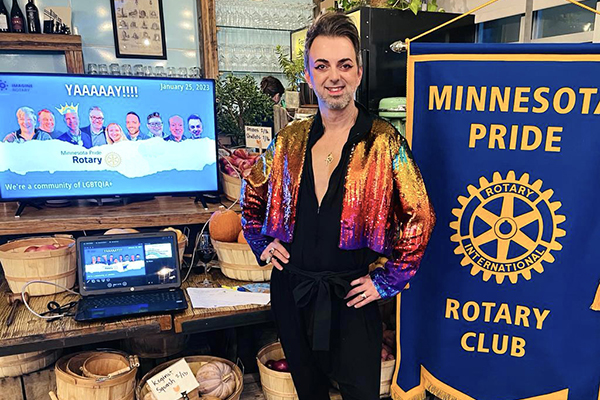 By Val Oliveira, Public Image Chair of Minnesota Pride Rotary Club
I have a deep-rooted familiarity with Rotary that spans back to the 90s when I was a journalist for a daily newspaper in a town near São Paulo, Brazil, where Rotary had a strong presence.
My journey in the United States started 12 years ago, when I met Duane, a flight attendant from Eagan, Minnesota. Our love impelled me to leave my homeland and give up everything I knew. I arrived in Minnesota amidst a freezing February in 2013 and we were married, shortly after Minnesota passed the bill legalizing same-sex marriage later that year.
Tragically, Duane's life was cut short just over a year later, when he suffered a heart attack.  After his departure, I chose to stand by his mother's side, supporting her through that challenging time.
Rotary journey
I met Leif Hagen, a financial advisor in Eagan, Minnesota, and started a new chapter in life.  Leif's connection with Rotary reignited a long-lost flame in me. Seventeen years ago, Leif joined the Rotary club of Eagan serving as its president twice. This extensive Rotary journey made him a natural choice to start the Minnesota Pride Rotary Club at the urging of past governor Tom Gump. I remember Leif sharing his thoughts about the assignment with a mix of enthusiasm and uncertainty, as he was unsure how to communicate effectively within the LGBTQIA+ community.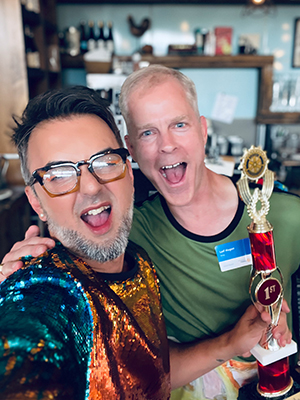 This is where my journey intersects with his.
With limited time before the kickoff event, I rolled up my sleeves and dived in fervently. My first task was to compile a mailing list of LGBTQIA+ organizations and relevant individuals in the Twin Cities, a daunting challenge considering my network primarily resided in Brazil. After extensive research, I managed to compile over 300 email addresses and broadcast the invite to our event, which ended up drawing a large crowd. Many attendees were entirely new to the concept of Rotary and signed up for our club.
Afterwards, I continued to use the mailing list to keep people informed about club meetings. One of Minnesota Pride's secret weapons lies in our spontaneous approach to capturing every meeting and service project on social media. I took charge of the club's social media presence, ensuring frequent posts to maintain audience engagement. 
Flexibility and creativity
In addition, I tried to invigorate the format of our meetings. Having attended other clubs with Leif, I often found their presentations lacking vibrancy and engaging moments. I reimagined our meeting presentations, transitioning from a more traditional approach to a dynamic and tech-savvy style. I infused memes, humor, candid photos, and captivating videos to convey Rotary's principles in a manner that resonates deeply with the LGBTQIA+ community. As a result, our meetings are always brimming with energy, and each PowerPoint presentation holds an element of the unexpected. I took on the role of designing all graphics, ensuring that our members are depicted as various whimsical characters.
Flexibility is another secret of our success. For our target demographic, primarily individuals in their 40s and 50s, their work and family commitments could pose scheduling challenges. Consequently, we opted for biweekly meetings, a choice that has proven successful as our gatherings consistently draw a packed house.
Recruiting and retaining members is a herculean task and I'm sure the challenge keeps many Rotary leaders on their toes. A visit to the Minnesota Pride Rotary is an experience distinct from typical Rotary clubs worldwide. We boast diverse age groups and genders. Among our 40 members, an impressive 89 percent are newcomers to Rotary, and their ages range from 22 to 70, with a strong representation in the dynamic 30s and 40s age groups.
Our initial two years was dedicated to assisting homeless youth and we managed to raise an impressive $32,000 through lively entertaining events. The fund enabled us to provide food, hygiene products, winter coats, and even furnish nine apartments for homeless LGBTQIA+ youth. Now, our club is embarking on a more ambitious path, initiating projects to address mental health concerns within the LGBTQIA+ community.
Member stories
As a journalist, I'm captivated by the stories and experiences from our members. For example, Grace Verbrugge, the club's youngest member, discovered us at the Twin Cities Pride Festival just a year ago. She confided in me that Minnesota Pride provided her the space to embrace her authentic self and connect with others who unconditionally accept her. Amanda Chancellor, our president-elect, navigated the legal labyrinth to secure her parental rights after legally marrying her wife and having a child. We also have members who identify as straight. Couple Adam Beach and Rebecca Guarrero support their best friend as she embarked on her journey of transitioning into a trans woman.
These stories propel me to do more for our club. We have crafted a family, a tightly-knit community. Gazing at those familiar faces during each meeting, each service project, fills me with excitement. The bonds we've woven transcend mere camaraderie; we've forged a family. A family that stands together, that supports one another, that challenges norms and celebrates diversity.
The role of coordinating public image for Minnesota Pride Rotary has become so consuming. My mind is in perpetual motion, ceaselessly contemplating strategies to maintain people's interest and commitment. But as I reflect upon my journey, I realize that we can't control every twist in our narratives, but we can choose how we respond. I've carried the weight of love and loss, of transformation and authenticity, and through it all, I've found my place within the Minnesota Pride Rotary. This is where I belong, where my passion for communication and advocacy finds a home.
---
Learn more about Rotary's commitment to Diversity, Equity, and Inclusion
https://blog.rotary.org/2023/09/14/unveiling-the-wheel-of-colors/